Looking for a dog-friendly alarm system in Asheville?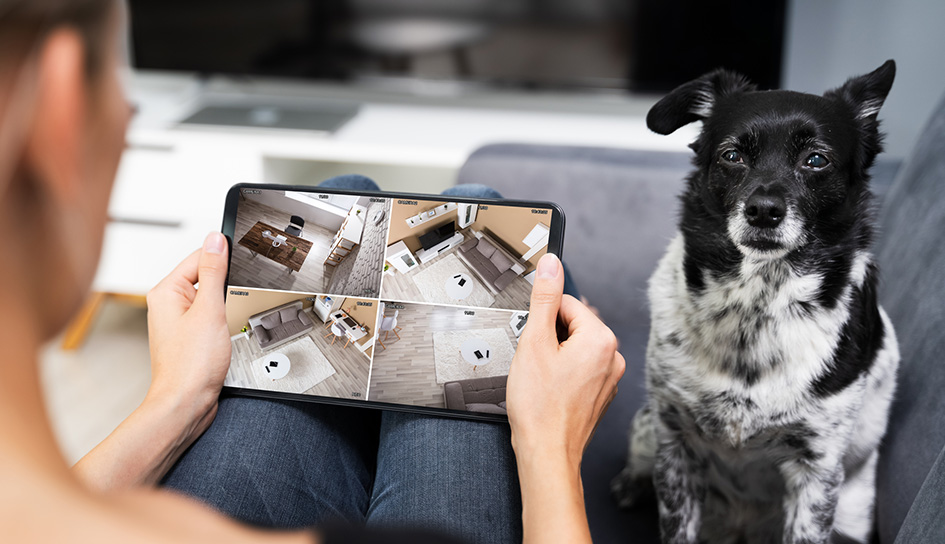 The constant companionship and joy a dog bestows upon your home in Asheville truly makes them a part of your family. Even so, many pets have been known to set off a sensor on various home security systems. And it appears that the larger your pooch is, the more likely they might be the reason for a false alarm. So wouldn't it be beneficial if you could find a dog-friendly alarm system in Asheville?
If you share your home with a dog, you need to consider the range of benefits found in Vivint's alarms and cameras. First, you can adjust the sensors to ignore locations where your four-legged friends typically roam. Then, use your indoor security cameras with high-def night vision and motion sensing capacity to maintain a close watch of your pet. Third, your dog-friendly alarm system ought to be straightforward to interact with so you can swiftly activate and deactivate your home's defense as needed.
Adjust your sensors to account for dogs
Modern motion, door, and window sensors are more accommodating to pets than previous devices. Cats and smaller dogs aren't likely to have any problem avoiding an inadvertent sensor trip, as the equipment can adapt to them. Bigger dogs and rambunctious pets may have an enhanced likelihood of false alarms, but you are able to lessen that chance with a few changes on the Vivint smartphone app.
Change the motion detection sensitivity to low. You may even adjust the amount of area covered by the device.
Position detectors away from heavily traveled areas, like your dog's pet bed or feeding area.
Deactivate your alarms via your smartphone app when you're on your way home -- especially if your furry friend has a tendency to bound past secured doors or windows when you're walking in.
Set a smart bulb to activate to calm an anxious pet at night.
Having the ability to handle these adjustments is why Vivint is the leading pet-friendly home security system in Asheville.
Turn to your indoor security cameras to see what's going on with your dog
Indoor surveillance systems with two-way talk are an easy means for pet parents to check on their animals while at work or vacation with your helpful smartphone app. Your indoor cameras even have the ability to give you a visual of your pet in low-light situations in full HD, so you may observe what is transpiring downstairs without getting out of bed. And if your cameras detect unusual motion, you may have a short video segment dispatched to your mobile device to see if it's your dog or an intruder.
Uneasiness and distressed behavior is common among dogs and if that's the case with yours, Vivint cameras could be beneficial to you. Whenever you find them starting to get uneasy, speak to them by using the two-way audio feature. They should detect your speech and understand that it's all right. Or, if you find that they are nervous in inclement weather, you may remotely flip on a light to make things less intimidating.
The best dog-friendly home security system in Asheville is simple to manage
All of the dog-friendly features are great, but they wouldn't benefit you a great deal if they were hard to manage. The nice aspect about a smart home system like Vivint's is that all your tools are included in both your smart hub and your smartphone app. Feel free to set your equipment around your family's lifestyle -- including the furry companions! All that is needed are some taps of your screen and you have your entire home security the way you want it.
Customize your animal-friendly security system today!
Your home's defense shouldn't need to be an ordeal for your dogs. Rather, it should supply superior security while allowing you to keep a watch over your pets. CallContact us at (828) 571-7175 or send in the following form today!
Cities Served Around Asheville By Smart Security Specialists Your Local Vivint Authorized Dealer